Get Away This Spring to Mallorca
If you're considering a break now that the weather is getting warmer then why not plan to get away this spring to Mallorca. The Balearic island is located in the Mediterranean Sea and shares an island grouping with Formentera, Ibiza and Minorca. The weather is fantastic for a spring break with temperatures heading upwards of 15 degrees Celsius during the spring months and more than 200 hours of sunlight a month from March onwards. Although Mallorca is officially Spanish speaking, it has been a popular tourist destination for so long that most of the local population has a pretty good command of English, particularly in the major resorts.
Getting flights to Mallorca for a spring break is easy as most of the major short haul airlines fly here, including all the budget names. Depending on when you book, and what time you choose to fly, you can get flights from as little as £30 and there is usually no shortage of seats if you want to book at the last minute. Although summer is traditionally the time when most people will choose to visit the Balearic Islands, spring is becoming ever more popular. However, the tourist numbers are still nothing like the summertime and so there is a great range of accommodation available during the spring months in all the major resorts, such as Palma, Alcudia, Cala Blava and Cala D'Or. Whatever the kind of accommodation you're looking for, you will find plenty of options here, from self catering apartments and plush luxury hotels, to budget options, villas and mid range hotels.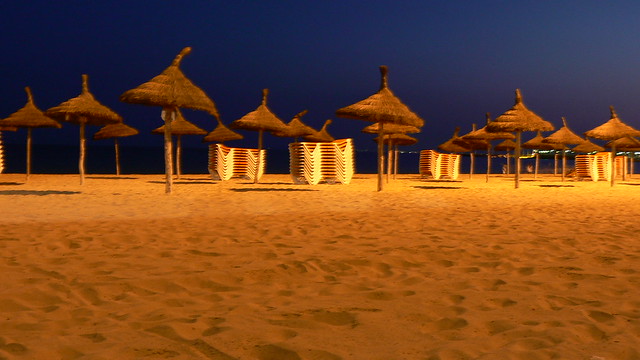 Although it may not quite be warm enough for some to strip down to swimmers in spring, towards the summer months when the temperatures begin to rise it's not far off. Mallorca's beaches are really quite special with miles and miles of gold sand and plenty of water sports to get involved in (you can wear a wetsuit if you feel a bit chilly!). The Calas de Mallorca beaches of Cala Domingos Grans, Cala Domingos Petits and Cala Antena have typical Mallorca fine white sand and beautiful clear blue seas and S'Amarador was voted the Best Beach in Europe in 2008.
In terms of sightseeing in Mallorca in spring, the capital city of Palma is a great place to spend a day. There are museums and art galleries, as well as shops galore, whether you want to buy local food or souvenirs to take home to remind you of your trip. La Granja de Esporles is a stately home only a short drive from Palma and is a great way to get to know Mallorcan life as it has been made into a museum dedicated to the local culture. For a sophisticated day out and a break from the resorts, the town of Valldemossa is a lovely option. It has had some famous residents, most notably the composer Chopin, and there are lots of pretty cafes and shops to keep visitors busy.
Although peak season in Mallorca is only just getting under way in spring, there are still plenty of options when it comes to eating out and enjoying a tipple or two.  All the major resorts are well populated with restaurants and bars, which will mostly stay open through winter, or will be opening up again as soon as spring arrives.  Nightlife doesn't rival that of the summer months, but there is still no shortage of nightspots and for many visitors, the fact that the island is a bit quieter during this time is something of a relief.
If you want to get away this spring to Mallorca you will find there are lots of options, in terms of flights, accommodation and things to see and do. Celebrate the imminent arrival of the warm weather and get on a plane to the sun!